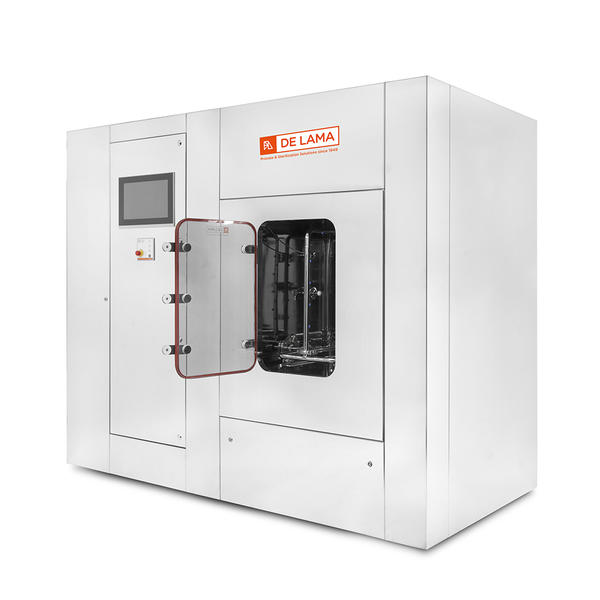 DLWM Series - Industrial CGMP Washer for Pharma
The new De Lama DLWM industrial washer, is the result of over 20 years of experience in industrial washing machines for the pharmaceutical sector.

Today all this know-how encompasses a whole range of concepts, improvements and totally innovative details for the sector.

The DLWM is designed for the treatment of all the accessories used in the pharmaceutical, health / hospital sector, in laboratories and research institutes, in the cosmetics and nutraceutical market.

De Lama washers are designed to fully comply with all the principles of 'Cleaning Validation'.

Made in both standard and custom models.

Capacity from 200 liters to 6.000 liters.
DLOV/W Series - Saturated Steam Sterilization Autoclave and Washing Machine
De Lama sterilizers, in DLOV-W configuration combine the performances of a saturated steam sterilization autoclave, DLOV model, with those of a high-efficiency industrial washing machine useful for components cleaning , machine parts , loading accessories (eg. trays for freeze drying in bulk) which require the removal of dust residual, particulates and contaminants.

This equipment allows to:
- wash, sterilize and dry with one single process tanks, mechanical parts or other materials
- reduce number and volumes of the equipment installed in controlled environment
- reduce validation and maintenance costs
- simplify staff operational procedures
- load and unload from the same side of the equipment all those products that are already in a controlled contamination environment

Autoclaves components are of the highest quality and reliability, worldwide available for ease of replacement and to assure the longest equipment lifespan.

Standard and customized models and sizes are available.